The History of Tamworth Moat House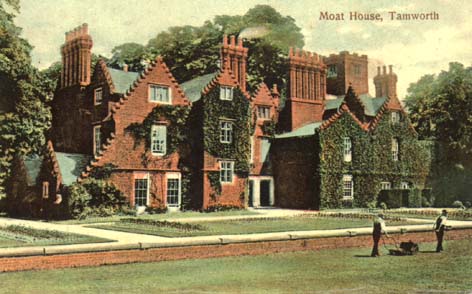 The Moat House, now a grade II* listed building was built or quite possibly rebuilt in 1572 by William Comberford on Lichfield Street. Lichefeldstrete, as it was known in the Middle Ages was actually first documented in 1369 and there are records of the property 'Motehallzende'.
William Comberford continued in its residence until his death in 1625. The property was then passed on to his wife's family. In 1619 Prince Charles, who subsequently became Charles I was entertained at the Moat House, then known as the Mothall, while his father, James I resided at Tamworth Castle.
From the Comberfords, the Moat-house passed to Thomas Fox who settled there on the 28th September 1654 where he married a Miss Judith Boothby. He did not hold the property for very long and in 1663 he and his wife sold it to Sir William Boothby and Bart for the sum of £1,540!
Sir William Boothby constituted the Moat-house his residence and in 1671 he sold it to Sir Edward Littleton Bart who at that time was residing at Pillaton-hall in Staffordshire. Upon Sir Edward Littleton Bart's' decease in 1709 the Moat House descended to his grandson, Edward who resided there until his death in 1751.
Edwards' aunt Sarah, being heiress, conveyed the Moat-house to Stanford Wolferstan, to whom she had been married in 1713.
In 1752 the property was passed to William Abney and in 1767 he then sold it to Viscount George Townshend whose steward, John Willington inhabited it for a considerable length of time.
The second Marquis Townshend constituted it his residence until his death in 1811. Thereafter Sir John Shee Bart resided at the property for a short period then Dr Robert Woody acquired it in 1815. In 1863 the Moat House was opened for the local horticultural show where it is documented that at least 2000 people were in attendance. There was archery, music (courtesy of the Warwickshire Militia Band) and pleasure boats on the River Tame, which is situated at the foot of the gardens. After the show the Moat House became a private nursing home for the mentally ill. In fact it is believed to have been a lunatic asylum for women.
The Moat House passed to another practitioner, Dr. Lowson, in the 20th century. He gave up the nursing home on his retirement, offering the property as a free gift to the Tamworth Corporation. Discussions ensued within the Council and it was foolishly decided that they could not afford to look after it, and the offer was rejected. Dr Lowson then quite rightly sold the mansion and since World War 2 it has remained as a series of restaurants as it is at its present day.
Thanks to The Friends of Tamworth Castle, Tamworth Heritage and Tamworth Borough Council for their assistance in the compilation of this report.
This text is copyright © Tamworth Borough Council